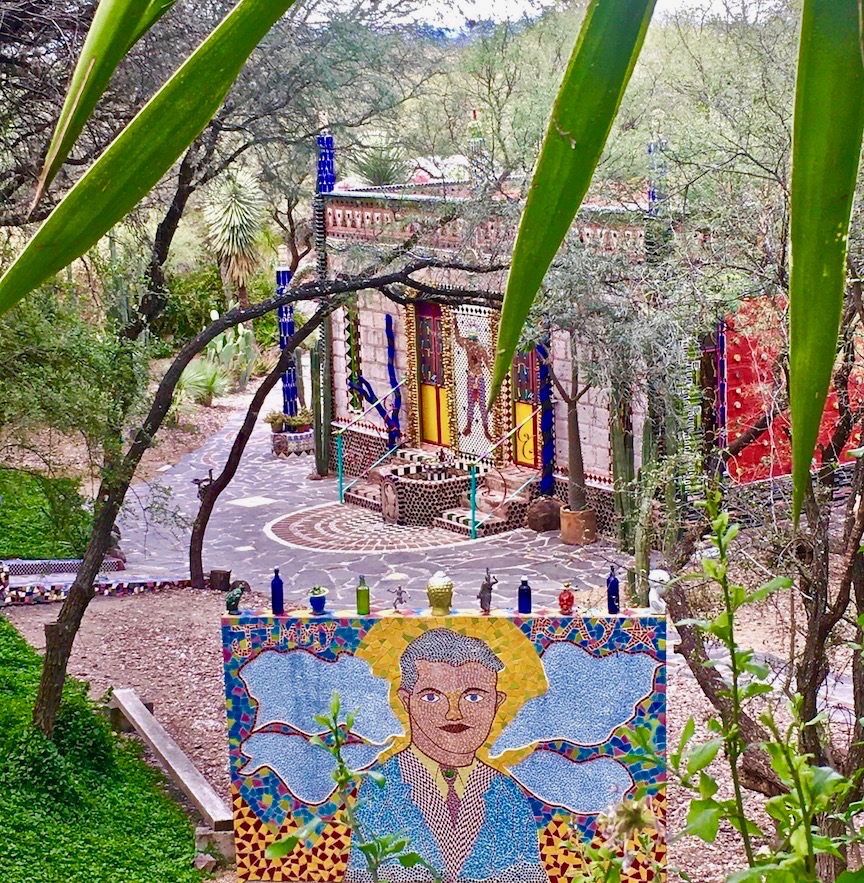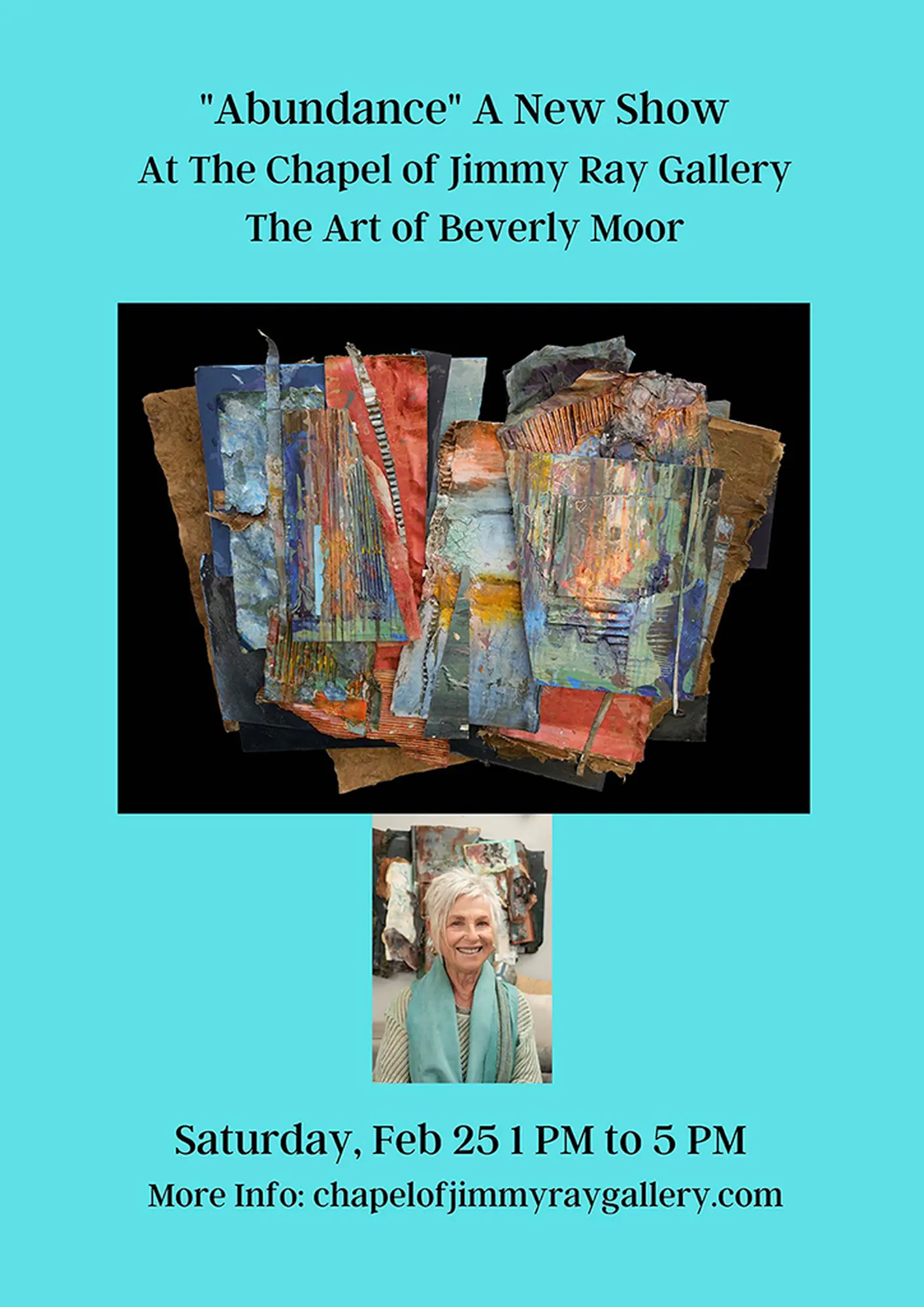 Abundance: A New Show February 25 at The Chapel of Jimmy Ray Gallery
The place to view and to celebrate all that is creative is in La Cieneguita this Saturday, February 25 from 1 pm to 5 pm.  The Chapel of Jimmy Ray Gallery presents a new exhibition, "Abundance" for your discerning pleasure. The exhibit features local artist Beverly Moor, an individual of active spirit and keen unfiltered imagination.
Beverly Bunting Moor was born in Atlantic City, New Jersey, in 1945, and raised in Houston, Texas. She studied painting at the University of Texas at Austin, the Rhode Island School of Design, and Brown University. Working mainly with fiber and textiles, Moor developed a unique abstract visual language composed of fractal, shredded, curling, and overlapping planes and lines, extending in three dimensions and beyond the frame. Her work has been widely displayed in both public and private collections and galleries including The Centennial Museum of London. She has shown at numerous corporate exhibitions including IBM, Westinghouse, Bell and Howell, and the John Hancock Building. Her work has been featured in The Chicago Art Review, American Art Galleries, and Fiberarts Magazine.
​Moor's most recent work is a return to her artistic roots. Her method consists of painting on heavy-weight paper and manipulating it to create multi-dimensional, many-layered surfaces. Many of these papers are left in the elements (sun, rain, wind, dust), to fade, and then manipulated.  Hand-torn edges blend with hand-drawn lines and marks, and paper is stacked both horizontally and vertically, creating palimpsests, juxtapositions, and codex-like arrangements of contrasting textures. The result is rough, organic, almost geologic, evoking the raw beauty of ruins and natural formations.
As Moor writes, " My children often accuse me of having 'abundance issues.' As a textile artist, I am a pack rat by nature; I collect scraps of this and that constantly, and I hate to see something go to waste. (More than once, I have made a taxi pull to the side of the road so I could pick up a particularly intriguing piece of roadside trash.) Around Christmas, I began thinking about abundance issues that we all have—the people who have too much, and the people who have too little. Christmas is meant to be a time of joy and fellow-feeling, and yet the expectation that we should all be happy can make those of us without abundance (of wealth, family, or health) feel even worse. To embody that tension, most of the materials that make up this show are taken from items discarded in the wake of the holiday season: styrofoam packing, cardboard, plastic, and so much more. An abundance of worthless items, which I have hopefully reinvested with some worth."
The show will also include the works of our cadre of exciting permanent artists: Meryl Truett, Ann Chamberlin, and Carlos Ramirez.
The Chapel of Jimmy Ray Gallery continues to offer expressive art openings in a celebratory community spirit.  You are invited for a festive afternoon in the campo.  A fine time is guaranteed in an atmosphere of revelation, joy and inquiry… Be prepared for the unexpected.
Hours
The Chapel of Jimmy Ray Gallery is open again. Visiting hours are 10:30 AM on Tuesdays, Thursdays, and Saturdays. Reservations can be made by emailing the Chapel at: anado@madebyanado.com
From Centro Historico in San Miguel take Calle San Francisco which later becomes Calzada de La Estacion. Follow this street straight through the glorieta (traffic circle) and proceed to the train station. Follow the road as it winds to the left and crosses the railroad tracks. Take the asphalt road which winds to the right….follow this road through three curves and you will be on a straightaway to La Cieneguita. When you arrive in Cieneguita you will pass over three topes (speed bumps).
You will pass a large green sign pointing to Guanajuato to the left. DO NOT GO LEFT-Continue straight ahead 150 meters past that sign and you will see a small lane on the right. There is a small purple and yellow sign which reads Casa de Las Ranas and Chapel of Jimmy Ray marking the spot and pointing to the right. Take that turn and soon you will come to a small Church…take a half- right turn and follow the road up the hill parallel to the Church. The Gallery grounds begin behind the Church property…you will enter at the first gate on the left. If coming for a tour you will arrive in front of the large colorful home on the left side of the road….
Desde el Centro Histórico de San Miguel de Allende, toma la Calle San Francisco que después se convierte en Calzada de la Estación. Sigue sobre esta calle todo derecho hasta llegar a la glorieta y continúa en dirección a la estación de ferrocarril. Continúa sobre la carretera conforme agarra hacia la izquierda, pasando las vías. Toma entonces el camino de asfalto que va hacia la derecha.
Sigue sobre este camino pasando las tres curvas y te encontrarás en el camino directo a La Cieneguita. Cuando llegues a Cieneguita pasarás tres topes. Luego pasarás por donde está un letrero grande, verde, que señala a Guanajuato hacia la izquierda. NO VAYAS A LA IZQUIERDA – continúa derecho 150 metros pasando ese letrero y verás un caminito a la derecha. Hay un letrero pequeño, de color morado y amarillo, que dice Casa de Las Ranas / Chapel of Jimmy Ray…Da media vuelta hacia la derecha y sigue el camino hacia arriba, paralelo a la iglesia. El terreno de la Galería comienza detrás del terreno de la iglesia. Entrarás en la primera reja a la izquierda. Si vienes para un tour, llegarás frente a la casa grande y muy colorida en el lado izquierdo del camino.
The Chapel of Jimmy Ray Gallery was founded in 2012 as a vehicle to present the work of Anado McLauchlin along with select artists that Anado has bonded with on a visual and oftentimes emotional level. The Gallery is located 5 kilometers from San Miguel de Allende at the Casa de Las Ranas compound in the small town of La Ceieneguita. This is an artist friendly gallery dedicated to the "road less travelled".