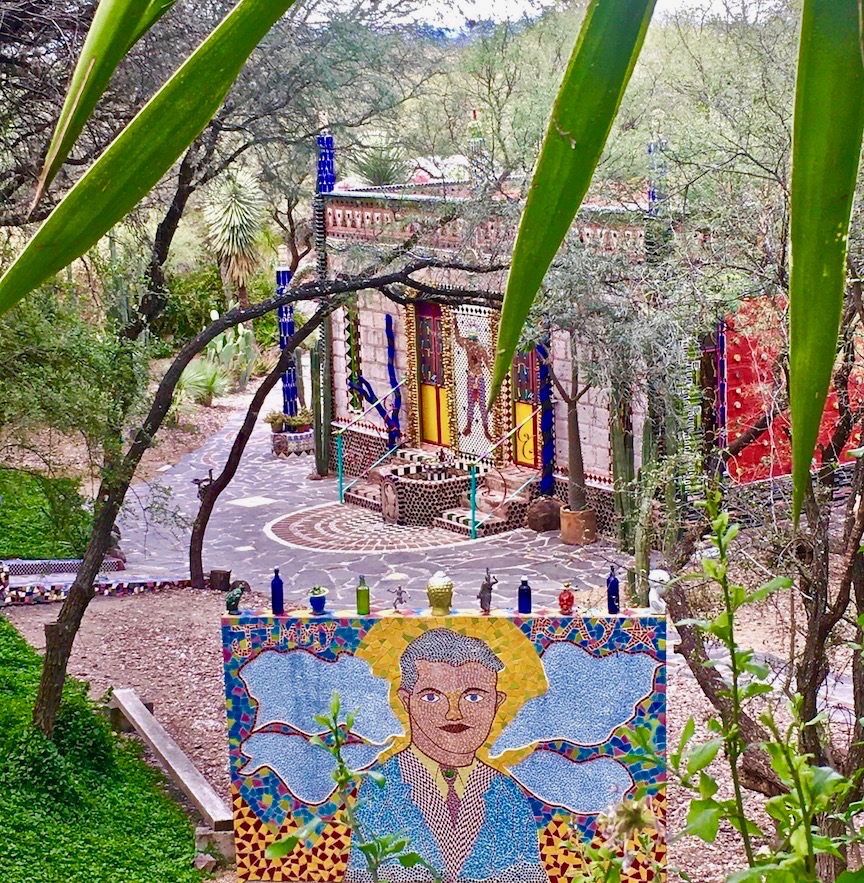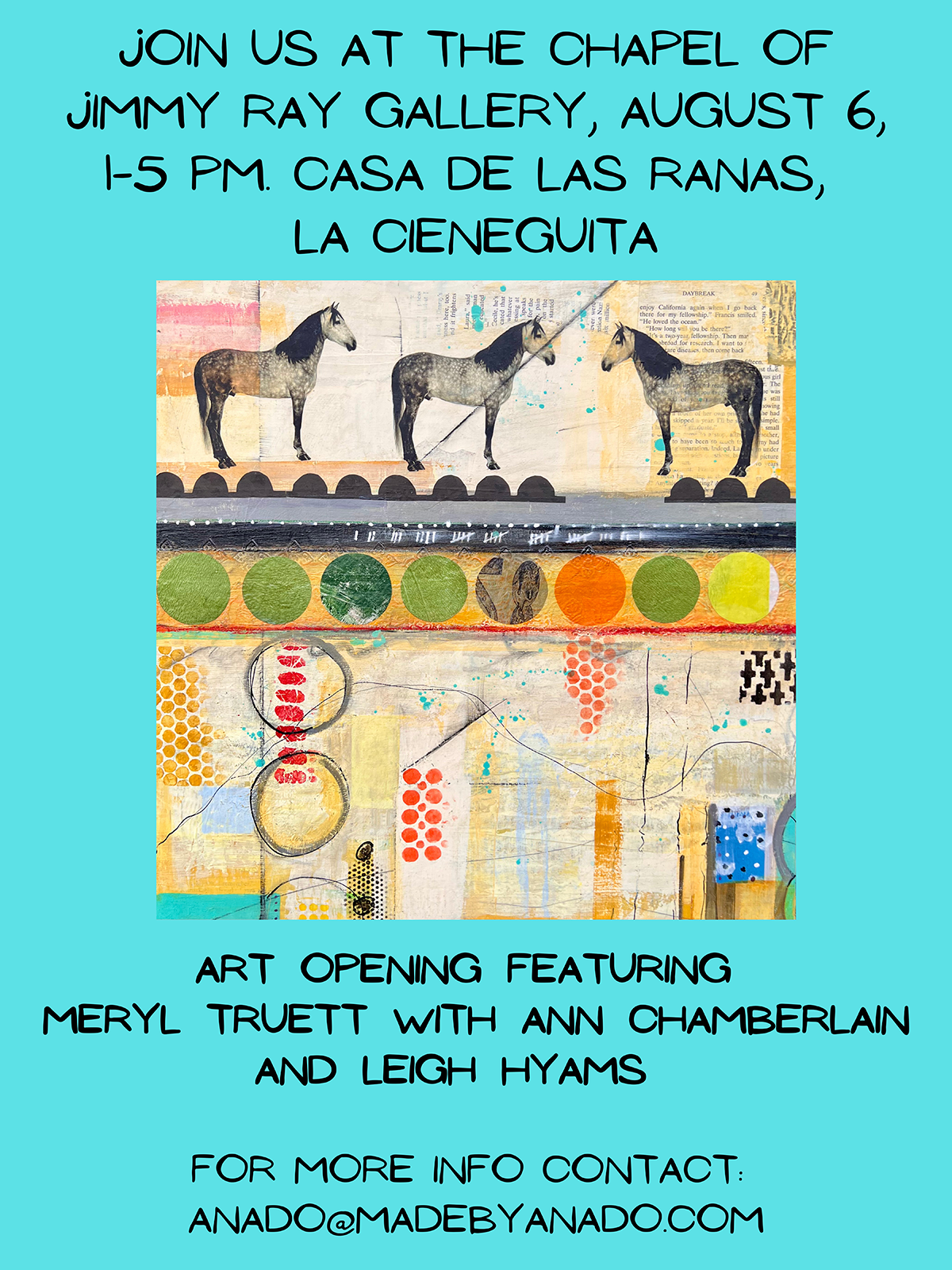 Richard Schultz is turning a page to a new chapter in the remarkable history of the Chapel of Jimmy Ray Gallery. Sixteen months after the passing of Anado McLauchlin, his husband, friend and co-conspirator in all things fabulous, Richard is pleased to announce a new and unique exhibition of Mexican inspired work by Meryl Truett, an artist, curator, gallerist and full time resident of our inspiring Pueblo Magico. Ms Truett (in true artistic parlance) has developed a deep attraction to the surreal visual playground that inhabits and in many ways defines, the very soul of this culturally influential country.
Other artists included are Ann Chamberlin and the late Leigh Hyams. Ms Chamberlin has worked as a Fulbright scholar/artist in Medellin, Columbia. Her paintings "tell stories that treasure the personal and vulnerable. The late Ms Hyams was also a Fulbright scholar. She said she was driven by "a passion for what frees us and makes us aware of a deeper reality.
Openings at the Chapel of Jimmy Ray Gallery are known for spectacle and surprise. All are invited to this celebration of art and community in an environment that's become a San Miguel destination. The New York Times described the riotous compound as a "force." The Los Angeles Times called the Casa de las Ranas "the happiest house in San Miguel."
Hours
The Chapel of Jimmy Ray Gallery is open again. There will be a grand re-opening and celebration of the art and life of Anado McLauchlin on Saturday, August 7 from 1pm to 5pm. Visiting hours are 10:30 AM on Tuesdays, Thursdays, and Saturdays. Reservations must be made for a visit.
If you have questions you can reach us at: anado@madebyanado.com
From Centro Historico in San Miguel take Calle San Francisco which later becomes Calzada de La Estacion. Follow this street straight through the glorieta (traffic circle) and proceed to the train station. Follow the road as it winds to the left and crosses the railroad tracks. Take the asphalt road which winds to the right….follow this road through three curves and you will be on a straightaway to La Cieneguita. When you arrive in Cieneguita you will pass over three topes (speed bumps).
You will pass a large green sign pointing to Guanajuato to the left. DO NOT GO LEFT-Continue straight ahead 150 meters past that sign and you will see a small lane on the right. There is a small purple and yellow sign which reads Casa de Las Ranas and Chapel of Jimmy Ray marking the spot and pointing to the right. Take that turn and soon you will come to a small Church…take a half- right turn and follow the road up the hill parallel to the Church. The Gallery grounds begin behind the Church property…you will enter at the first gate on the left. If coming for a tour you will arrive in front of the large colorful home on the left side of the road….
Desde el Centro Histórico de San Miguel de Allende, toma la Calle San Francisco que después se convierte en Calzada de la Estación. Sigue sobre esta calle todo derecho hasta llegar a la glorieta y continúa en dirección a la estación de ferrocarril. Continúa sobre la carretera conforme agarra hacia la izquierda, pasando las vías. Toma entonces el camino de asfalto que va hacia la derecha.
Sigue sobre este camino pasando las tres curvas y te encontrarás en el camino directo a La Cieneguita. Cuando llegues a Cieneguita pasarás tres topes. Luego pasarás por donde está un letrero grande, verde, que señala a Guanajuato hacia la izquierda. NO VAYAS A LA IZQUIERDA – continúa derecho 150 metros pasando ese letrero y verás un caminito a la derecha. Hay un letrero pequeño, de color morado y amarillo, que dice Casa de Las Ranas / Chapel of Jimmy Ray…Da media vuelta hacia la derecha y sigue el camino hacia arriba, paralelo a la iglesia. El terreno de la Galería comienza detrás del terreno de la iglesia. Entrarás en la primera reja a la izquierda. Si vienes para un tour, llegarás frente a la casa grande y muy colorida en el lado izquierdo del camino.
The Chapel of Jimmy Ray Gallery was founded in 2012 as a vehicle to present the work of Anado McLauchlin along with select artists that Anado has bonded with on a visual and oftentimes emotional level. The Gallery is located 5 kilometers from San Miguel de Allende at the Casa de Las Ranas compound in the small town of La Ceieneguita. This is an artist friendly gallery dedicated to the "road less travelled".