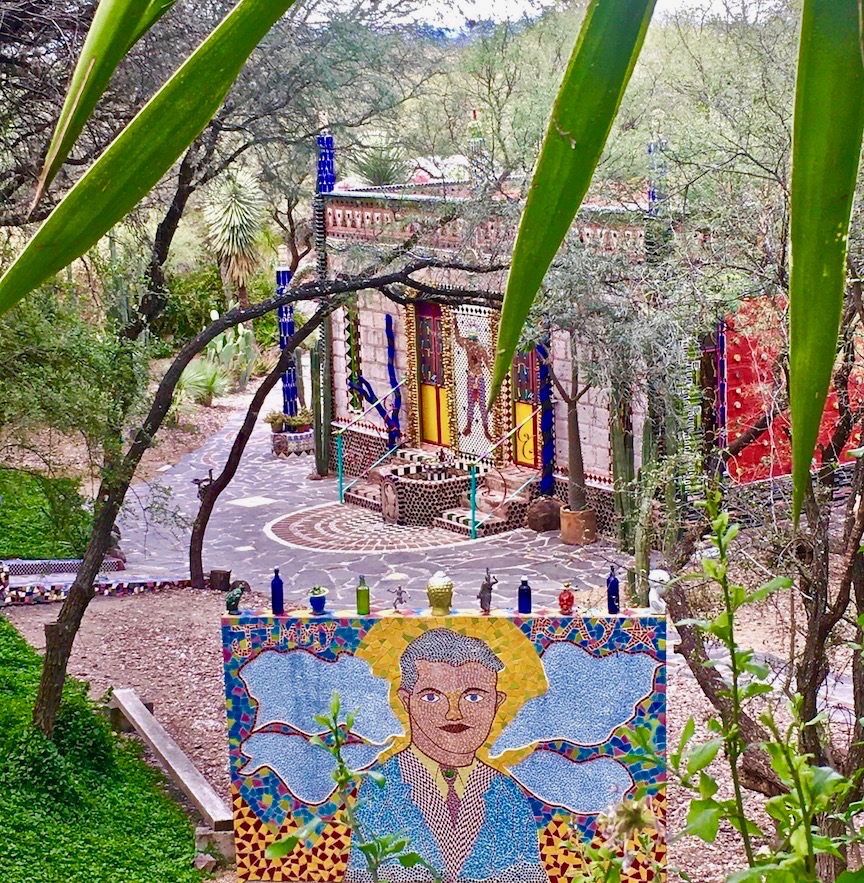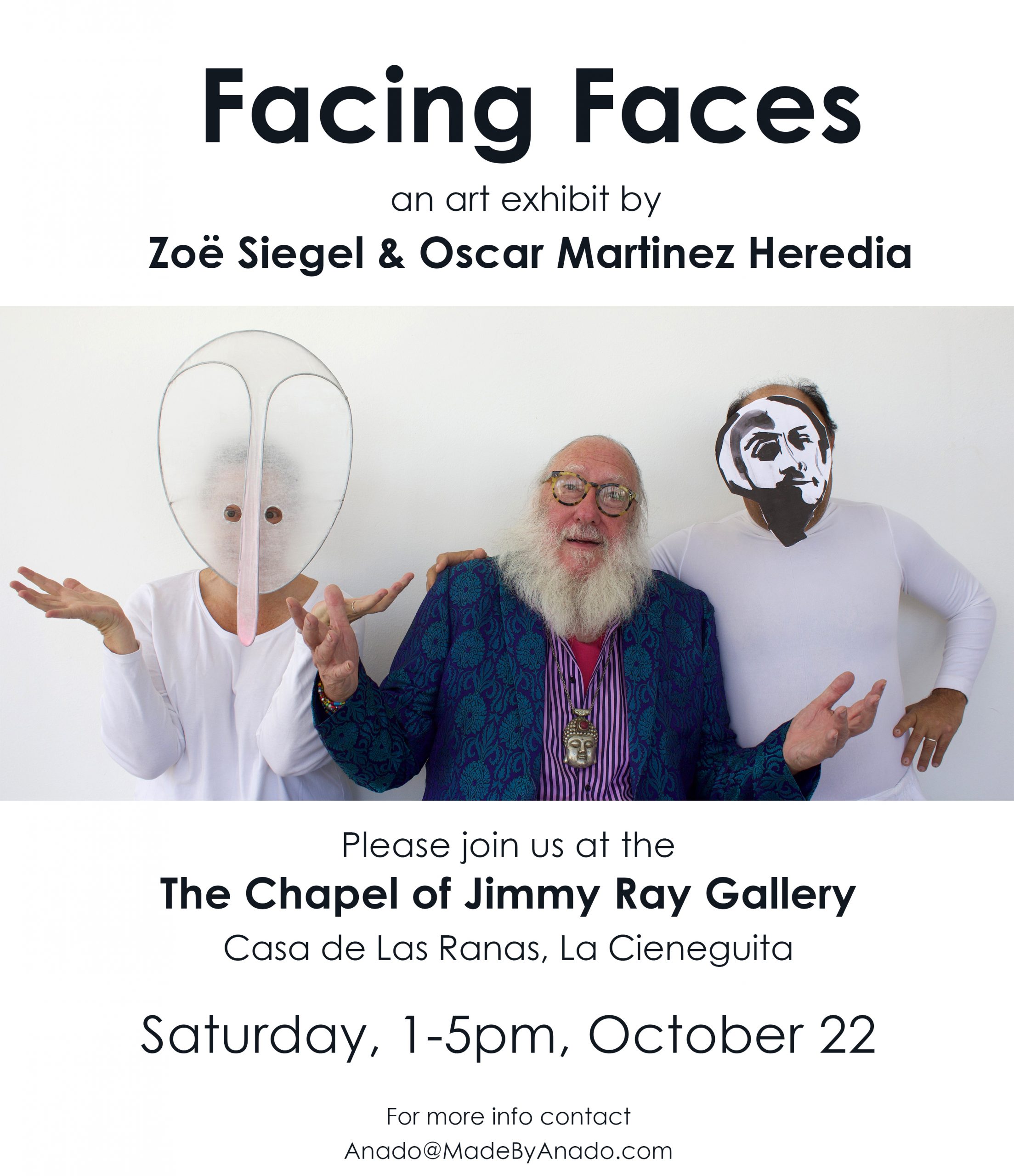 The Chapel of Jimmy Ray gallery is proud to announce a new show, Facing Faces, featuring the work of Zoë Siegel and Oscar Martinez Heredia. The opening will take place on Saturday, Oct 22 from 1 to 5 at its location in La Cieneguita. The show will run through January 2023.
We are hundreds of different people, depending on the moment. Oscar Martinez Heredia's self-portraits enact this reality. In each frame he reinvents himself. In fact, in each frame he invents a completely new visual world, an entirely changed optical landscape. Each painting is a whole universe of color, gesture, and mood, evoking an individuality that fragments and coalesces in an infinity of different ways.
While Martinez is peering into his face, Zoë Siegel is masking faces. And unmasking them. Siegel is a minimalist. She pares down her masks into simple, concise and elegant formal statements. She attaches tracing paper to wire, and to those two severe elements, she sometimes adds one additional material ingredient. Masks are intended to hide, but Siegel's reveal.
Created by Anado McLauchlin and Richard Schultz, the gallery is dedicated to celebrating art, love, and life for over 10 years. All are invited to take part in the opening. Information can be found at chapelofjimmyraygallery.com. You can also email us at anado@madebyanado.com. Please come and celebrate with us.
Hours
The Chapel of Jimmy Ray Gallery is open again. Visiting hours are 10:30 AM on Tuesdays, Thursdays, and Saturdays. Reservations can be made by emailing the Chapel at: anado@madebyanado.com
From Centro Historico in San Miguel take Calle San Francisco which later becomes Calzada de La Estacion. Follow this street straight through the glorieta (traffic circle) and proceed to the train station. Follow the road as it winds to the left and crosses the railroad tracks. Take the asphalt road which winds to the right….follow this road through three curves and you will be on a straightaway to La Cieneguita. When you arrive in Cieneguita you will pass over three topes (speed bumps).
You will pass a large green sign pointing to Guanajuato to the left. DO NOT GO LEFT-Continue straight ahead 150 meters past that sign and you will see a small lane on the right. There is a small purple and yellow sign which reads Casa de Las Ranas and Chapel of Jimmy Ray marking the spot and pointing to the right. Take that turn and soon you will come to a small Church…take a half- right turn and follow the road up the hill parallel to the Church. The Gallery grounds begin behind the Church property…you will enter at the first gate on the left. If coming for a tour you will arrive in front of the large colorful home on the left side of the road….
Desde el Centro Histórico de San Miguel de Allende, toma la Calle San Francisco que después se convierte en Calzada de la Estación. Sigue sobre esta calle todo derecho hasta llegar a la glorieta y continúa en dirección a la estación de ferrocarril. Continúa sobre la carretera conforme agarra hacia la izquierda, pasando las vías. Toma entonces el camino de asfalto que va hacia la derecha.
Sigue sobre este camino pasando las tres curvas y te encontrarás en el camino directo a La Cieneguita. Cuando llegues a Cieneguita pasarás tres topes. Luego pasarás por donde está un letrero grande, verde, que señala a Guanajuato hacia la izquierda. NO VAYAS A LA IZQUIERDA – continúa derecho 150 metros pasando ese letrero y verás un caminito a la derecha. Hay un letrero pequeño, de color morado y amarillo, que dice Casa de Las Ranas / Chapel of Jimmy Ray…Da media vuelta hacia la derecha y sigue el camino hacia arriba, paralelo a la iglesia. El terreno de la Galería comienza detrás del terreno de la iglesia. Entrarás en la primera reja a la izquierda. Si vienes para un tour, llegarás frente a la casa grande y muy colorida en el lado izquierdo del camino.
The Chapel of Jimmy Ray Gallery was founded in 2012 as a vehicle to present the work of Anado McLauchlin along with select artists that Anado has bonded with on a visual and oftentimes emotional level. The Gallery is located 5 kilometers from San Miguel de Allende at the Casa de Las Ranas compound in the small town of La Ceieneguita. This is an artist friendly gallery dedicated to the "road less travelled".